Did You Know You Can Send A Digital Gift with Paypal?
10 Reasons Why You Should Buy Digital Products, 
And other Digital Product Insights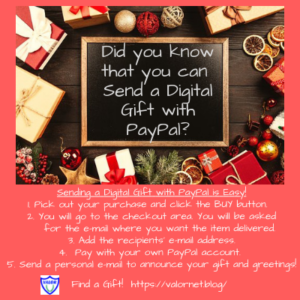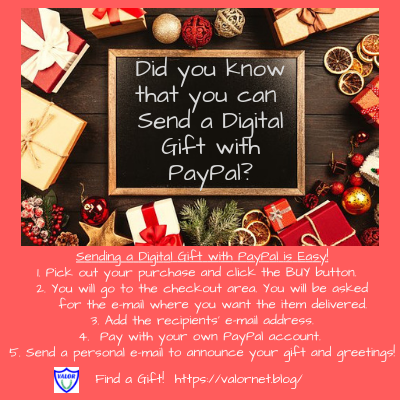 Did You Know You Could Send a Digital Gift With PayPal?
Did you know you could send a digital gift with Paypal? A digital product comes from point A to point B in cyberspace.  Once it gets to its destination, it can be enjoyed in many ways.
Digital products include e-books, PDF and Video Courses, WordPress plugins, all kinds of software and marketing aids.  Here at valornet.blog we specialize in Digital Products of all kinds for making money online.  Take a look at the category that interests you.  Pick out a product and then send it to a friend via PayPal, directly to their inbox!
Sending a Digital Gift with PayPal is Easy!
1.Pick out your digital gift on valornet.blog and click the BUY button.
2.You will go to the checkout area. You will be asked for the e-mail where you want the item delivered.
3.Add the recipients' e-mail address.
4. Pay with your own PayPal account.
5.Send a personal e-mail to announce your digital gift and greetings!
What are Digital Goods?
In electronic commerce, digital goods is a general phrase used to
describe any goods that are stored, delivered and used in its electronic
f
ormat. Digital goods are shipped electronically to the consumer through
email or download from the Internet.
What is a Digital Product?
A digital product is any product that is sold online. It does not have physical
form or substance. You cannot hold a website theme in your hand, smell an
e-book, or taste a software program.  They are generally delivered through
an internet connection from a Vendor platform to
a personal or business device.
10 Reasons Why You Should Buy Digital Products as a Gift
No need to wrap it.
No need to go to the store.
A digital gift is unique.
A digital gift is personal.
Digital gifts on

valornet.blog

 are reasonably priced.
You can announce your gift with an e-mail.
The gift is delivered directly to the e-mail of the recipient.
Digital gift shopping can be done from anywhere you have WIFI.
With Valornet, you can shop on a birthday or Christmas Eve and send the gift on that day.
You can send multiple gifts to one person or many people.
Here at

valornet.blog

, we specialize in digital commerce.  We also specialize in people, whether you are purchasing a digital product for yourself, a colleague or a loved one, we want you to be satisfied with the quality of your choice and experience in our One Stop Paradise for Digital Products, 

valornet.blog!

valornet.blog, Your One Stop Digital Shop for Make Money Online Products
Visit our One Stop Digital Shop and Find Some Excellent Gifts Today!