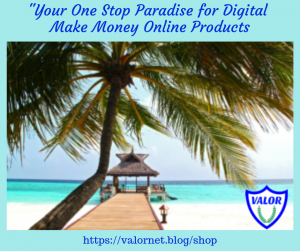 THANK YOU FOR VISITING VALORNET.BLOG!
Welcome to valornet.blog.  This is How valornet blog Works. Browse the Product Menu at your right to find the digital product category in which you are interested. We have products in several categories, many are interchangeable.  Find the one in which you are interested and explore!  All of the products on our site are the first in a funnel of inter-related products offered by the creator or vendor of the offer.  The front-end or lead product is often very reasonably priced, and often is just enough to meet your needs.  If you want to take your purchase to another level of usefulness, you may want to take a look at the products following your initial purchase.  This is called the "funnel". The product presentation pages you visit from this site include a check-out where you can use PayPal or a PayPal credit card option.
You do not ever have to buy any of the OTOs (One-Time-Offers) that follow the first purchase.  Just page down to the bottom of the OTO sales presentation and find the opt-out sentence.  It will usually include a no thanks, and then a short sentence.  Just click on that to go to the next page.  Follow the same pattern for whatever you do not want, and eventually you will get to the members area of your purchase.  You can purchase any or all  of the OTOs if you want. Your receipt will be e-mailed to you and any other important information regarding your purchase, such as log-in information, and a link to your purchase.  You will get a separate e-mail for each if you opt to purchase any OTOs.
The purpose for this site is to review digital products and provide them for purchase for people interested in Making Money Online.  There are also many free gifts and bonuses here as well.  You will find that several of the products have an opt-in page for a free download.  Feel free to download all the reports and bonuses that you want from this site.  Your e-mail will only be recorded on my list and you can unsubscribe any time you would like.  The only exception to that is if you download something from inside an official salespage.  I promise to respect your privacy. We are also GDPR compliant if you are from outside of the United States.
If there is a free gift with a product, please download it and proceed to take a look at the offer that goes with it. Everything presented here will be reasonably priced, and useful for Internet Marketing, Search Engine Optimization, Product Creation, (SEO) Consulting, Small Business Building and e-Commerce Marketing, Social Media Marketing, Video Marketing and however else you would like to apply the products.  My desire is for you to find whatever you need to make money online.
If you have a problem with your purchase, please contact the support desk of the product developer.  There will be a members' area for most products.  You will find the people in the internet marketing world are friendly and helpful.  In full disclosure, I am an affiliate for JVZoo, Clickbank and Warrior Plus+.  I do get a commission for any product that is sold.  After you have bought a couple of products, you will get the pattern. You can also purchase these products as gifts by using the recipients' e-mail address in the delivery section of your PayPal account. I trust this gives adequate explanation of How Valornet.blog Works.  If you have any questions, you can write me at valornet at valerieknies.com. There is plenty of great value in my Digital Store and much more to come!  Take a look at the menu at your right and pick a category and product that interests you.  Enjoy your digital shopping experience!!!   Valerie Knies