Description
27 AFFILIATE MARKETING COURSES BY KAM "FATZ" JENNINGS
The B-Sides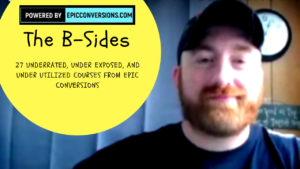 I can tell you by personal experience, that my friend, Kam "Fatz" Jennings is a very generous person.   He did an amazing launch for this group of courses, but now the launch is over and the real price is still a great value.   The B Sides, 27 Affiliate Marketing Courses from Epic Conversions are not just any courses.
Listen to Kam tell about The B Sides,
…these are under the radar courses and trainings. They are the diamonds in the rough. The B-Sides. The inspiration, the motivation, the step by step training that will finally get you on your path and succeeding can come from anywhere…and this collection has just about everything!
From email marketing to product launching to affiliate marketing to audience building and youtube…it's all in there.
27 courses of JAM SLAM ACTION PACKED ALL KILLER NO FILLER value….
Many of these B-Sides have only been released as bonus exclusives and Insider club exclusives.
Even if you have bought everything I have ever put out…you do not have all of these courses (I know because a few of them are completely unreleased period.)"  Kam
The B-Sides Collection: 27 Underrated, Under exposed, and Under Utilized Courses From Epic Conversions for only $97.00!
Special Bonus from Valornet: The Commission Blueprint by Glenn Klosky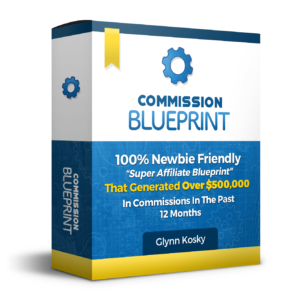 Optional One Time Offers available after purchasing The B Sides:
[PLR EDITION] The B-Sides Collection, 97.00.
Epic Conversions Insider's Club, 1.99 recurring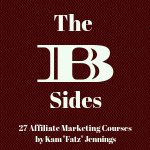 I personally promise that you will wonder at the level of instruction and information you get in these courses. Kam Jennings holds a treasure trove of knowlege about affiliate marketing, You- Tube video making, memberships, subscriptions, list building, e-mail marketing and much more. Not only that, he is a dedicated husband and father. Read, listen and learn. My opinion, go and get this one. Amazing Teacher, Amazing Value, with 27 Courses for $3.60 each – Amazing Price!