Description
IMChecklist 16: Copywriting
Make sure your COPY is as persuasive as it can be!
SIMPLE, FAST & EFFECTIVE.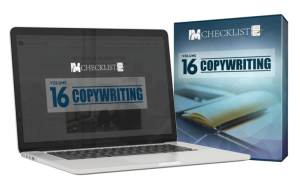 Copywriting can make or break your sales presentations.  It is also not easy. 
Kevin Fahey has made things better with his IMChecklist 16: Copywriting.  Kevin Fahey's latest IM Checklist is now available  and he is providing 18 step by step checklists to help you improve your copywriting skills.  Here are some things you can do when you master the art of copywriting: You can write high converting e-mails in a breeze.
You can craft sales pages without having to fork outhundred or thousands for a copywriter
You can wrtie better Facebook Posts and Ads.
You can create more engaging videos.
You can blog with confidence.
These checklists provide you with everything you need to master copywriting. Video training is with Kevin Fahey is also included in the IMChecklist 16: Copywriting package. From April 1st  until the 4th the price of this offer increases every few hours so don't delay. This is true Valornet Value!.
You also get full private label rights to these checklists to use any way you wish.  Check out what is included:
18 STEP BY STEP CHECKLISTS IN 5 FORMATS WITH FULL PLR
1. Creative Copywriting – How To Get Started
2. Copywriting Hacks For Appealing Content
3. Copywriting Research
4. Copywriting Tools And Resources
5. Copywriting Techniques Taken From Psychology
6. How To Craft A Headline For Maximum Conversions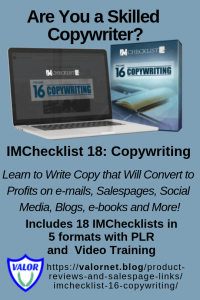 7. Copywriting For Web Pages
8. Essential Copy Elements Every Sales Page Should Have
9. Copywriting For Sales Videos
10. Tips For Ads Copywriting
11. Social Media Copywriting
12. Direct Response Copywriting
13. How To Do Email Copywriting
14. How To Get Paid For Your Skills As A Copywriter
15. How To Do Copywriting For Newsletters
16. Copywriting Grammar Tools 
17. SEO Copywriting Checklist 
18. Copywriting Questions You Need To Ask Yourself
Here are a few things you can do with these checklists.
#1 – Educate Yourself – These checklists were originally created for Kevin's students to follow, thus giving them a solid, proven step by step process to complete any task. Each student paid between $1,000 and $5,000 to access. With that said, you can ensure the quality is high.
#2 – Create Quality Blog Posts – You can create blog posts using specific checklists. By adding a few images and some extra SEO friendly text, blog posts are ready to go in minutes.
#3 – Create Lead Magnets – You have the right to give these checklists away individually as lead magnets.
#4 – Rebrand & Resell – Easily rebrand the checklists, include links to recommended products and services where you earn commission and build a buyers list. Win in three different ways.
#5 – Done For You Product Idea – Each checklist series took Kevin and his team weeks to create, ensuring every subject is covered on that particular topic in great detail.  The hardest part about creating a product is "the idea" and then "the complete outline".
#6 – Become a great copywriter!
18 STEP BY STEP CHECKLISTS IN 5 FORMATS WITH FULL PLR

Here is a quick look at what you CAN do with the private label rights included:
You CAN turn them into PowerPoint Presentations.
You CAN edit, add graphics and re-brand in any way you wish.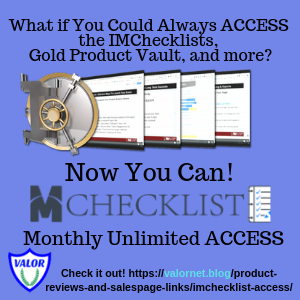 You CAN claim full authorship.
You CAN use them to create a video training course.
You CAN add them to a membership site.
You CAN use them to build your email list (individual checklists only)
You CAN use them to create blog posts or infographics
You CAN translate them into different languages                                                                                                                                                                                                                          
*************************************************                                                              
Remember the quality is exceptionally high Kevin Fahey guarantees you will learn a massive amount from the checklists and training.
Carefully and seriously consider these checklists as part of your personal library to make your marketing ventures reach new levels.  Visit the Private Label Rights section of valornet.blog to find out more about the IMChecklist Series and the IMChecklist Monthly Membership.  You will find the membership in the One Time Offer funnel of IMChecklist 16-Copywriting. However, if you want to think about it, you can find it always available here at valornet.blog along with the other 15 Checklists. Copywriting is an essential skill needed by all internet marketers.  If you don't learn to write your own copy, you will likely need to outsource it. That makes this an essential investment .  It is still relatively early in the life of internet marketing, the opportunities for copywriting for of all kinds e-commerce and physical products abounds.    IMChecklist 16-Copywriting to take the video training and follow the !8 IMChecklists to master the skill of copywriting!

Here are the One Time Offers Included with IMChecklist 16: Copywriting:
Front End: 18 checklists on Copywriting, $17.00 to $22.00 (Four Day Dimesale). The price increases each day until it reaches $22.00 (still a discount from $27.00)
OTO #1:  IM Checklist Monthly membership site, $17.00
OTO #2: 10 DIM VIP Training  10 X Blowout – 10 of our best training products at a 94% discount, $97.00.
If you have any questions about the checklists or these OTOs you can message me on Facebook at https://www.facebook.com/valerie.knies.58, or e-mail me at valornet@valerieknies.com.