Description
IMChecklist Volume 15-YouTube Advertising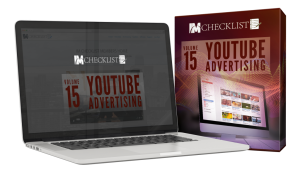 Kevin Fahey's latest IM Checklist is ready for March 2019!  Like clockwork, Kevin has been publishing a new checklist on the first of every month since January of 2018. He now has quite an extensive library of Internet Marketing treasure available.  This month he is providing 18 step by step checklists on YouTube Advertising.
The quality, precision and step by step formula presented makes YouTube Advertising a breeze for anyone, regardless of your marketing level.  The most successful marketers are using YouTube with skill. Kevin is one of those 7 Figure marketers and he has provided an insight to what he is doing to see success and large monthly profits with the help of YouTube and a lot of hard work!
IMChecklist 15-YouTube Advertising comes in 5 different formats with private label rights, and also includes a complete video training course, some additional bonuses and access to a private mastermind group.


Here is a list of Topics Included in IMChecklist 15-YouTube Advertising:
1. YouTube Advertising Basics & Getting Started
2. A How To Guide On Promoting Your Video Ads On Google AdWords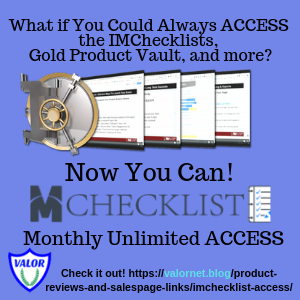 3. Best Practices For YouTube Ad Videos
4. Google AdWords Tutorial
5. How to Create Your First AdWords Campaign with Video
6. YouTube Advertising Advanced Targeting Options
7. How To Plan Your YouTube Advertising Campaign
8. YouTube Advertising The Key Metrics You Need To Monitor
9. How to Optimize Your Video Ads
10. Setting Up A YouTube Remarketing List
11. Tips and Basics of YouTube Remarketing
12. How to Set Up an Overlay Ad on YouTube
13. How to Set Up Bumper Ads on YouTube
14. How to Set Up Display Ads on YouTube
15. How to Set Up Non-Skippable Ads on YouTube
16. How To Set Up Sponsored Cards On YouTube
17. How to Setup an Effective AdWords Advertising Budget
18. Final YouTube Advertising Checklist
Here are some great bonus gifts that come with the IMChecklist 15:
Bonus #1 – IM Video Masters – Value $37.00 – Only Available During This Launch Special
IM Video Masters is a 32 + past video training course which will teach you everything they need to know about shooting, editing and publishing videos for every type of scenario in the IM space.
Bonus #2 – IM Product Launching 2.0 
Go HERE to Check Out IMChecklist 15-YouTube Advertising!

Here are a few things you can do with these checklists.
#1 – Educate Yourself – These checklists were originally created for Kevin's students to follow, thus giving them a solid, proven step by step process to complete any task. Each student paid between $1,000 and $5,000 to access. With that said, you can ensure the quality is high.
#2 – Create Quality Blog Posts – You can create blog posts using specific checklists. By adding a few images and some extra SEO friendly text, blog posts are ready to go in minutes.
#3 – Create Lead Magnets – You have the right to give these checklists away individually as lead magnets.
#4 – Rebrand & Resell – Easily rebrand the checklists, include links to recommended products and services where you earn commission and build a buyers list. Win in three different ways.
#5 – Done For You Product Idea – Each checklist series took Kevin and his team weeks to create, ensuring every subject is covered on that particular topic in great detail.  The hardest part about creating a product is "the idea" and then "the complete outline".
Go HERE to Hear Kevin Fahey Explain IMChecklist 15-YouTube Advertising!
18 STEP BY STEP CHECKLISTS IN 5 FORMATS WITH FULL PLR

Here is a quick look at what you CAN do with the private label rights included:
You CAN turn them into PowerPoint Presentations.
You CAN edit, add graphics and re-brand in any way you wish.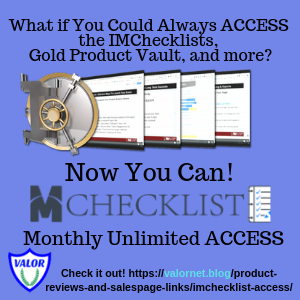 You CAN claim full authorship.
You CAN use them to create a video training course.
You CAN add them to a membership site.
You CAN use them to build your email list (individual checklists only)
You CAN use them to create blog posts or infographics
You CAN translate them into different languages                                                                                                                                                                                                                          
*************************************************                                                              
Remember the quality is exceptionally high Kevin Fahey guarantees you will learn a massive amount from the checklists and training.
People using YouTube are on the cutting edge of internet commerce.  Carefully and seriously consider these checklists as part of your personal library to make your marketing ventures reach new levels.  Visit the Private Label Rights section of valornet.blog to find out more about the IMChecklist Series and the IMChecklist Monthly Membership.  You will find the membership in the One Time Offer funnel of IMChecklist 15-YouTube Advertising.  However, if you want to think about it, you can find it always available here at valornet.blog along with the other 14 Checklists. YouTube marketing is here to stay for years to come.  It is still relatively early in the life of internet marketing.  Get in to the YouTube market now and use the IM Checklist 15 – YouTube Advertising to take the video training and follow the  18 IMChecklists to master the skill of video marketing!
Go HERE to Check Out IMChecklist 15-YouTube Advertising!

Here are the One Time Offers Included with IMChecklist 15-YouTube Advertising
Front End: 18 checklists on YouTube Advertising, $17.00 to $22.00 (Four Day Dimesale)' Price increases each day until it reaches $22.00 (still a discount from $27.00)
OTO #1:  IM Checklist Monthly membership site, $17.00 monthly recurring.
OTO #2: 10 Day Product Creation Boot Camp, 'The 2019 Product Creation training course valued at $1,997. The training is presented by Kevin Fahay and includes over 13 hours of webinars, includes access to Kevin via private FB Groups. Even though this is a big ticket item, to reward early birds, the price is set to increase $5 every day. During this launch the price will be between $447 and $497.
If you have any questions about these OTOs you can message me on Facebook at https://www.facebook.com/valerie.knies.58, or at valornet@valerieknies.com.